Happy Winter Solstice!
Happy Winter Solstice everyone! From here it's on to more daylight. Yea!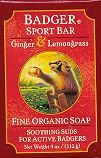 I started off celebrating the day with a long shower where I sudsed up with a bar of
Badger
Ginger and Lemongrass Soap. Natural soaps are one of those small luxuries that can totally transport me to a warm happy space. If you've never treated yourself to a bar of all-natural, organic soap, I highly recommend that you try it sometime soon. The soap has a nicer feel and the scent of natural ingredients like ginger, lemongrass, lavender, bergamot, and patchouli is so much nicer than that perfumed stuff that you can get at any grocery or department store.
Badger
is one of my favorite brands of all things soapy and lotiony. It all started with
Badger Balm Sore Muscle Rub
. I loved the tin (I have a thing for tins) that it came in with it's little badger holding up a jar of golden balm, so
Hedgehog
bought a tin of it for me along with some massage oil. I've been hooked ever since. How could I not love a company that would write this about their soaps?
Our soap uses significant amounts of organic, natural, and wild crafted botanical ingredients. No animal fats. No GMOs. No fillers. No chemical surfactants, synthetics, or other creepy stuff that you definitely don't want on your skin. Organic means (to me) grown in healthy soil without the use of chemical fertilizers or chemical pesticides. It implies the use of ecological farming methods, including the creation of healthy soil with natural compost,and the use of traditional practices like crop rotation and cover crops. In some cases, it takes advantage of planting according to moon cycles and the use of subtle soil amendments like biodynamic soil inoculants.
So that's how I started the day. After work I'm continuing the self-pampering with a hair cut -another one of those things that can instantly put me in a better mood. And then Hedgehog and I will spend the evening decorating our
ficus tree
and exchanging gifts.
I hope you all have a great Winter Solstice.
Tags: Winter Solstice Badger Badger Balm Soap